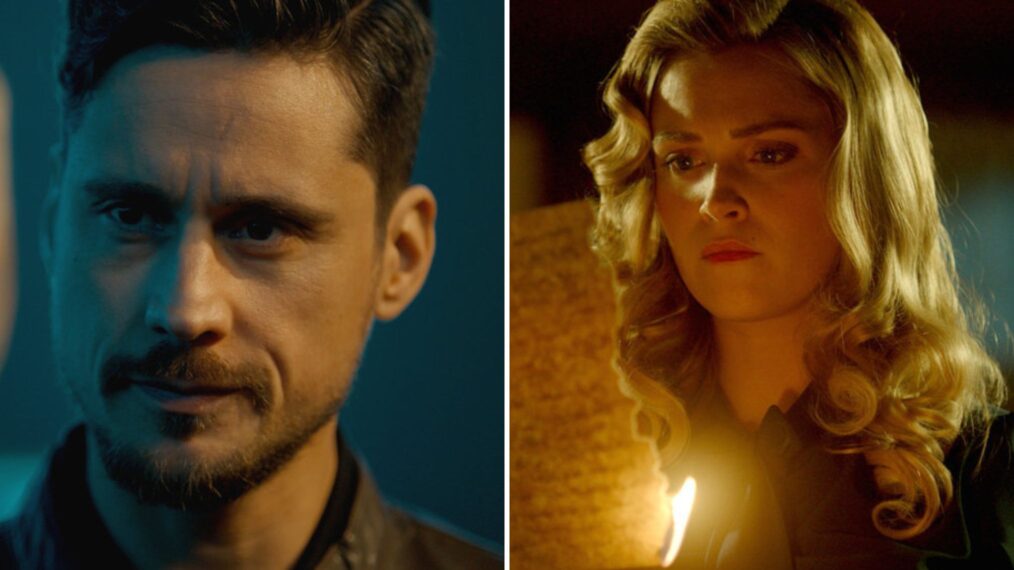 There are a couple new characters coming in for Quantum Leap Season 2 whose descriptions leave us with questions.
Peter Gadiot and Eliza Taylor have joined the NBC drama, which will return on Wednesday, October 4, as series regulars. Taylor's Hannah Carson is said to be "a complex young woman who may be more than she appears"; we'll meet her in the third episode. And Gadiot's Tom Westfall is "a US Army Officer, former special forces, now high up in Army Intelligence." He is "thoughtful, centered, a spiritual kind of warrior who both men and women admire, but whose humility keeps him from ever being arrogant" and "will take on a crucial role overseeing the project."
So now we have to wonder: What's Hannah hiding? Will we meet her with Ben (Raymond Lee), last seen trying to find his way home, or with his team, aiming to get him back? What's on that paper Hannah's reading (above)? And what role will Tom take on with the project? Will there be conflict between him and the others?
Quantum Leap is one of the scripted series on the fall schedule, due to the writers and actors strikes, and it left off its first season with Ben thinking he was jumping home after trips through the past (and one to the present) and his friends and fiancée waiting for him. However, as the Season 2 premiere sneak peek from San Diego Comic-Con revealed, Ben actually ends up in a plane somewhere over Russia in 1978, with guest stars Melissa Roxburgh, François Arnaud, Aaron Abrams, and P.J. Byrne, transporting some sort of artifact. The plane crashes, Byrne's character mentions something about a "betrayal" while pinned but brushes it off later, and Ben and Roxburgh's character get the cargo off the plane before it explodes.
"The show just feels bigger and more assured," executive producer Martin Gero told TV Insider about Season 2 in April. "The season premiere is the biggest episode we've done. I think it's bigger than the pilot. The scope of the storytelling is really, really exciting."
He added, "It won't have a conventional season-long threat. There won't be a big bad that we're working against. The season is much more emotional for all of our characters for reasons I can't get into yet. But it feels like a lot of the space that was eaten up by that mythology is filled with emotion and character development in a way that is deeply satisfying and really exciting. And so the leaps are bigger and better."
Quantum Leap, Season 2 Premiere, Wednesday, October 4, 8/7c, NBC