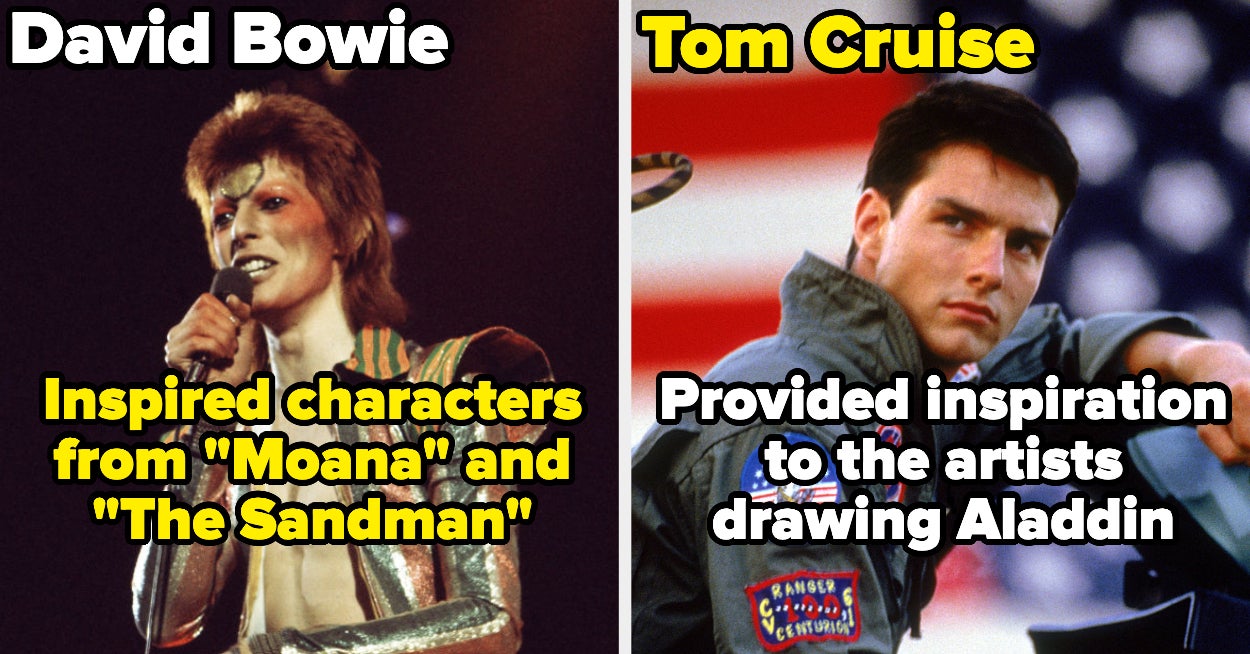 1. David Bowie —> Tamatoa (Moana)
Lin-Manuel Miranda told People that he decided to write Tamatoa, the giant treasure-obsessed crab from Moana, as a tribute to David Bowie following his death in 2016, in part because Jemaine Clement, one half of New Zealand comedy-music duo The Flight of the Conchords and an impressive Bowie impressionist, was cast in the role.
(You might notice in that picture that Tamatoa has differently sized pupils. This is due to a condition called anisocoria, which Bowie himself had.)
In the People interview, Miranda said, "As soon as they said Jemaine Clement I got really excited. … [Flight of the Conchord]'s Bowie tribute, which they did back at the Aspen Comedy Festival [where Miranda opened for them with his group Freestyle Love Supreme in 2004] was so brilliant, I said, 'Oh, I'm writing that.' The world had already been mourning Bowie, I'd been listening to Bowie on a loop. I was like, well I'm writing a glam rock tune for this crab, this jewel-encrusted crab."
Clement himself told Yahoo Movies that it was "Lin's idea" to make the character an homage to Bowie, and that on Miranda's demo of Tamatoa's song "Shiny," listeners "can tell that he's doing an impression of my impression of David Bowie."
2. David Bowie (Pt. 2) —> Lucifer Morningstar (The Sandman)
Speaking of Bowie: In a Vanity Fair video, Neil Gaiman, the writer of The Sandman comics and executive producer of their Netflix adaptation, said that both the original and on-screen Lucifer Morningstar were inspired by an "androgyny based around early David Bowie, Bowie when he was a curly-haired folk singer with a perm."
Gwendoline Christie, who plays Lucifer in the series, told Tudum, "And this idea of Lucifer being a junkie angel, that was directly inspired by David Bowie."
3. Ray Bolger —> The Joker (Joker)
Joaquin Phoenix told the Associated Press that he drew inspiration for his dancing in Joker from Ray Bolger, who is probably best known today as the Scarecrow in The Wizard of Oz.
Phoenix said, "There was a particular song called 'The Old Soft Shoe' that [Bolger] performed and I saw a video of it and there's this odd arrogance almost to his movements and, really, I completely just stole it from him."
He went on, "This choreographer Michael Arnold showed me that and tons of videos and I zeroed in on that one. That was Joker, right? … That was probably the greatest influence."
Here's Bolger performing "The Old Soft Shoe."
View this video on YouTube
Alan Eichler / Via youtube.com
4. Divine, aka Harris Glenn Milstead —> Ursula (The Little Mermaid)
One of the most famous cases of an animated character being modeled on a real-life celebrity is that of The Little Mermaid's Ursula and famed drag queen, actor, and John Waters collaborator, Divine, whose given name was Harris Glenn Milstead.
According to a 2016 article by Nicole Pasulka and Brian Ferree published in Hazlitt, The Little Mermaid songwriter and producer Howard Ashman was an admirer of Divine, who, like Ashman and Waters, hailed from Baltimore. When Rob Minkoff, the animator who came up with Ursula's distinctly Divine-ish character design, showed Ashman his work, Ashman responded, "She looks like a Miami Beach matron." In addition to his work on the movie's music with his collaborator, Alan Menken, Ashman offered guidance to the voice actors, including Ursula's, the comedian Pat Carroll.
Milstead died in 1988 and didn't get to see the 1989 film that he helped inspire. Jeffrey Schwarz, who directed the documentary, I Am Divine, told Hazlitt that Milstead "would have wanted to play the part himself," if he'd had the opportunity.
5. Alyssa Milano —> Ariel (The Little Mermaid)
During an interview on The Wendy Williams Show, Alyssa Milano said that unbeknownst to her, Ariel's character design was based on "pictures of me from when I was younger."
Milano only found out about the connection between her and the Disney Princess, which she called "so cool," when she was asked to host a behind-the-scenes special about the making of the film.
6. The Beatles —> The Vultures (The Jungle Book)
According to The Independent, the four singing vultures in The Jungle Book were modeled after The Beatles, but the band members themselves declined the opportunity to voice them. It's rumored that John Lennon himself told their manager to turn down the gig.
Jon Favreau, the director of the 2016 live-action remake, told the Radio Times that he tried to get Ringo Starr and Paul McCartney involved in the film, 49 years after the first time the musical icons gave Disney the thumbs down, but the cameos didn't come together.
Favreau said, "We don't have the Beatle-vultures. I did talk about trying to get Paul and Ringo into the film, because they wanted the Beatles for the original, but I couldn't get them." He noted that he and the other filmmakers "came to the idea too late."
7. Tom Cruise —> Aladdin (Aladdin)
The creative team behind Aladdin originally designed the main character to be young and boyish. In the documentary A Diamond in the Rough: The Making Of Aladdin, supervising animator Glen Keane noted that they aimed to create a protagonist more compelling than the typical Disney archetype of "the boring hero, the Prince Charming." To achieve this, it was decided that Aladdin should be drawn as a "little guy," not a "tall, strapping hero-type."
However, Keane explained that when then-Disney chairman, Jeffrey Katzenberg, saw Aladdin's design, he said, "You know, I just don't believe that guy and Jasmine would be together." Co-director and producer John Musker recalled that Katzenberg compared Jasmine to Julia Roberts and said that Aladdin needed "more Tom Cruise" incorporated into his look to be believable as a romantic interest for her.
And in a 1992 interview with Entertainment Weekly, Keane said that at Katzenberg's suggestion, he watched Tom Cruise's movies while developing Aladdin. He said, "There's a confidence with all of his attitudes and his poses." The film's artists used photos of both Cruise and Calvin Klein models to inform their work on the character, in addition to drawing inspiration from what Keane called the "total exuberance" of rapper MC Hammer.
8. Jimmy Fallon —> Aaron Samuels (Mean Girls)
Jonathan Bennett, who played Aaron "Didn't Know It Was October 3rd" Samuels in Mean Girls, told HuffPost that he was cast at least in part due to his resemblance to Saturday Night Live alum and late night host, Jimmy Fallon.
About this, Bennett said, "She [writer and costar Tina Fey] said that's exactly 100 percent true."
9. Dwayne "The Rock" Johnson —> The Boulder (Avatar: The Last Airbender)
And finally: In her first appearance in Avatar: The Last Airbender, Toph fights a variety of Earthbenders with exaggerated personas, in a competition reminiscent of a professional wrestling match. One of the Earthbenders, The Boulder, is clearly an homage to none other than ex-wrestler, Dwayne "The Rock" Johnson.
According to the Avatar: The Last Airbender trivia tidbits known as "Avatar Extras," the show's created team even tried to get Johnson himself to voice the character, but it didn't end up happening. Maybe in the live-action version coming to Netflix?
Mick Foley, another ex-wrestler, voiced The Boulder instead.
TV and Movies
Get all the best moments in pop culture & entertainment delivered to your inbox.