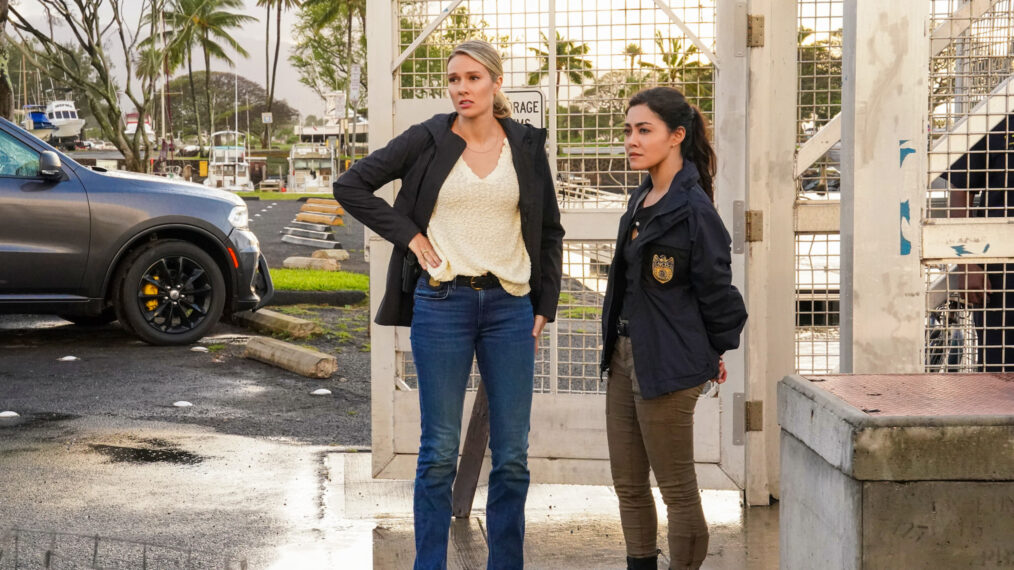 [Warning: The below contains MAJOR spoilers for NCIS: Hawai'i Season 2 Episode 20 "Nightwatch Two."]
Was Kacy Season 1 sometimes tough to watch? Yes. Did we just want our favorite NCIS: Hawai'i couple to get it together? Yes. Well, fortunately, Lucy (Yasmine Al-Bustami) and Kate (Tori Anderson) have done just that in Season 2.
And in the latest episode, they're celebrating an anniversary … sort of. As Lucy explains, after Kate finds a cupcake with "Happy Anniversary" on it in the fridge, she's superstitious about real dates and anniversaries but she loves her and them and wants to celebrate their awesomeness as a couple and how far they've come. So, she picked a random day — the same one she's on night watch — for just that.
Their plans are interrupted by a call (which leads to a case), but the end of the episode does see them at a bar, recreating the night they first met. Kate was in town for a meeting, the two flirted, and the rest is history (but this time includes Lucy stealing a fry). It's the perfect non-anniversary, Kate says.
"Anything with Tori, I'll just say, is always so fun to play," Al-Bustami tells TV Insider. "We actually spoke about that on the day of [filming that scene] whenever it was just the two of us. And I just asked her, 'What are your favorite scenes to film?' And she was like, 'I really do like when it's just two people. You can just focus on the other person.'"
And while Al-Bustami does enjoy the group scenes, which they do have quite a lot of, "it really is refreshing whenever you get to just do you and another person, especially when it's not crime solving, which is why it's always so fun to play with Tori just because I get the emotional stuff with her," she explains. "That was fun to play in this scene especially because since it is a recreation, it's the trying to be how we used to be and playing all of that out. But then clearly obviously we have a relationship now and just seeing the transformation from where I know Kate was to where Kate is and the fact that she even wants to do this is, I just think it's so adorable and it's so cute and Lucy loves that."
And here's a fun behind-the-scenes anecdote: It was while filming that scene that they found out NCIS: Hawai'i had been renewed for Season 3. "They made a huge announcement. That was cool," Al-Bustami shares. "That was fun to get to hear that with everybody."
Before that fun, sweet moment, however, Lucy spends the episode very much wrapped up in the case. While on night watch, she receives a call from a man, Joe, who says he killed someone. But in putting the pieces together, she realizes he was only protecting himself from someone who had been about to kill him. As for the person manipulating the others involved in a robbery, well, Lucy, takes him down in a cool fight scene on a boat. (Kate shoots him before he can reach for his gun at the end.)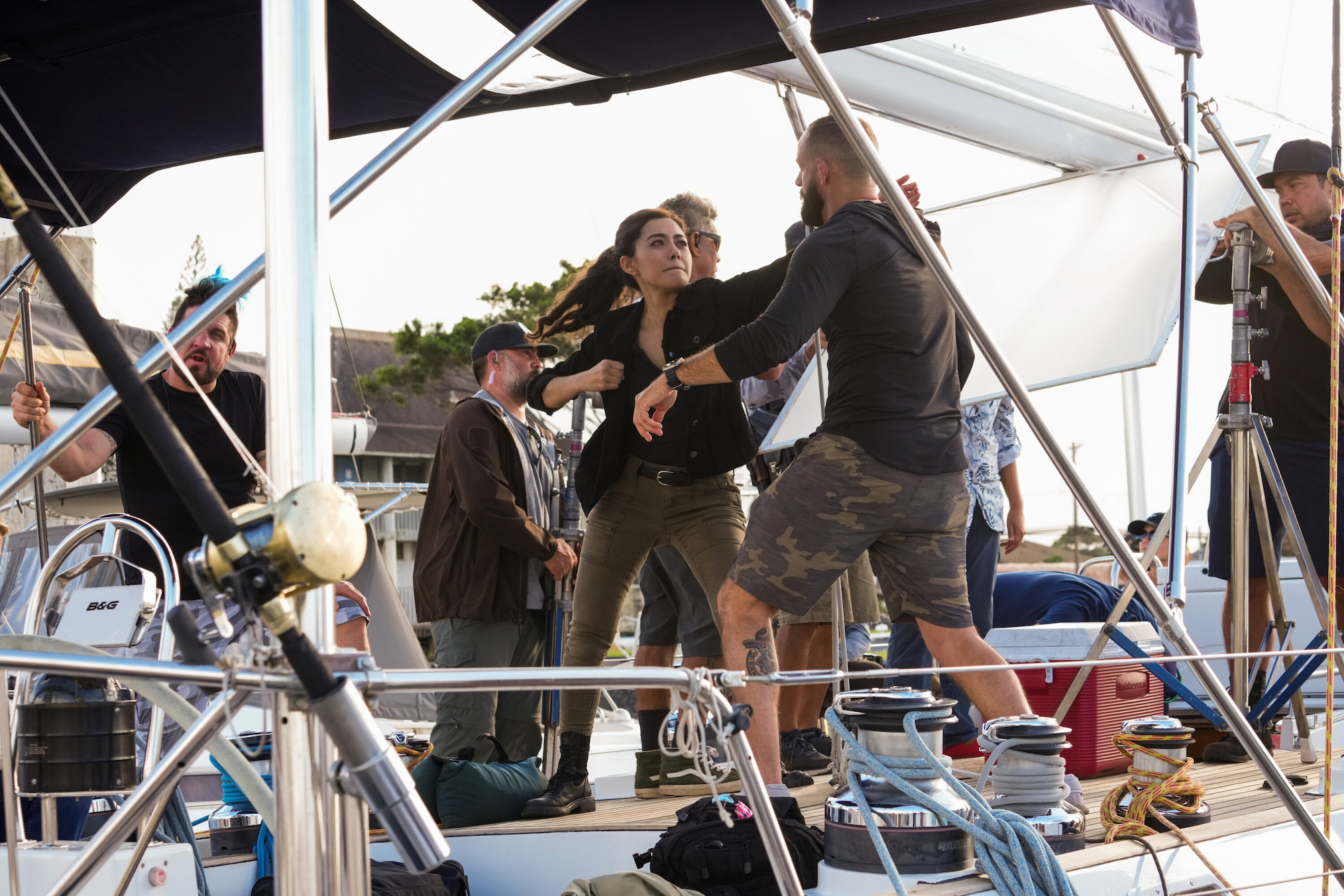 Karen Neal/CBS
Filming that fight scene "was a blast. That was so much fun and everyone was such a trooper," Al-Bustami raves. "It was really hot that day and all of us were obviously wearing all our clothes and gear and everything, but everyone was awesome and because of all that space that you saw, which was none, and because we were on location, it really did take everyone — the crew, the camera team, the fight coordinators, the other actors — coming together and just making sure that everyone felt safe and everyone knew what they were doing. It was hard, but everyone was so proud of it just because we all knew all the work and the coordination it took to do everything."
And as we see, it paid off!
NCIS: Hawai'i, Mondays, 10/9c, CBS