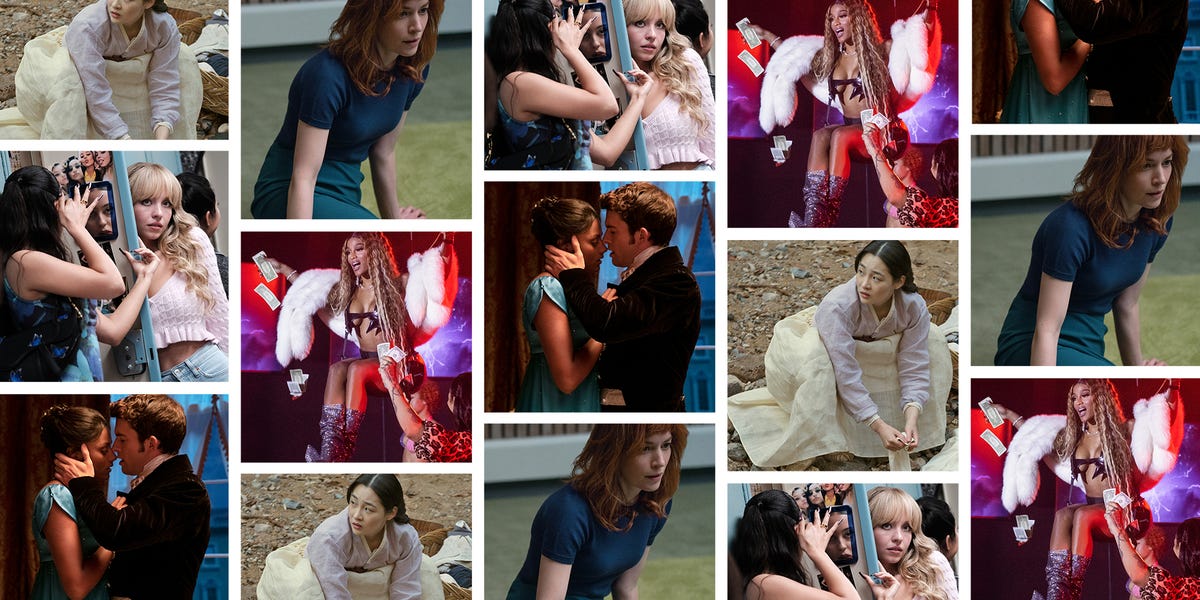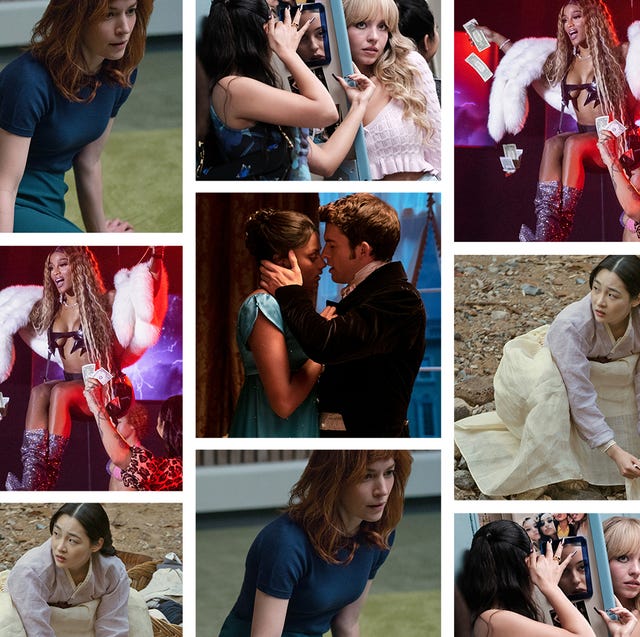 Courtesy of Apple TV+, Netflix, HBO, Starz
We have to give 2021 props for blessing us with shows (or, as we like to call them, pandemic-era distractions) like Mare of Easttown, WandaVision, and The White Lotus. But 2022 has posed some steep competition in the TV department: With the return of favorites like Bridgerton and Euphoria, plus the arrival of buzzy new dramas like Severance and The Bear, this year's slate is keeping our eyes glued to the screen.
From classic revivals to new installments of our favorite series, here are the shows we're loving so far in 2022.
Advertisement – Continue Reading Below
Rarely does a show receive the accolades it actually deserves, but for once, the hype machine got this one right: Abbott Elementary is exactly as good as everyone says it is. Quinta Brunson's teacher-centric sitcom is clever but not condescending, uplifted by a dream ensemble cast and their shrewd comedic timing. Like a handful of beloved sitcoms before it, Abbott is a show you can play countless times without ever losing a laugh.—Lauren Puckett-Pope, Associate Editor
It's been months since I finished Severance, and the final shot of the final episode still replays in my head from time to time, prompting me to Google, once again, when the second season will be released. For the uninitiated, the show is a science-fiction thriller starring heavy-hitters like Adam Scott, John Turturro, Christopher Walken, and Patricia Arquette. In their universe, employees at the mysterious Lumon Industries can undergo a "severance" procedure, after which your work self (your "innie") knows nothing about your private life, and your private self (your "outie") knows nothing about your work life. Naturally, chaos ensues.—Madison Feller, Senior Writer/Editor
Based on Min Jin Lee's bestselling epic novel of the same name, the big-budget series follows a single Korean family over four generations in the 20th century as they strive to make a life for themselves in Japan. Written by showrunner Soo Hugh, Pachinko features a handful of international talent, including Oscar winner Youn Yuh Jung and superstar Lee Minho, as well as Love Life's Jin Ha. This rich and moving saga was painfully overlooked by Emmys voters, but you definitely shouldn't do the same.—Erica Gonzales, Senior Culture Editor
The internet is thirsty for The Bear's Jeremy Allen White—and with good reason. As the fine-dining chef who inherits his family's humble Italian beef sandwich shop, the tattooed short king commands attention simply by existing. Brash, tempestuous, and very passionate about his meat, Carmy (White) is hell-bent on saving the failing restaurant, and you'll love watching him every step of the way. Yes, chef!—Claire Stern, Digital Deputy Editor
Hopeless romantics beware: This show will make you cry. Many times. Hell, I think I cried every episode. An adaption of Alice Oseman's graphic novel of the same name, this year's breakout love story follows Charlie Spring (Joe Locke) and Nick Nelson (Kit Connor), two students at Truham Grammar School. The show features characters with different queer identities, all with their own plots and heart-pounding romances. It's a celebration of love sprinkled with relatable high school moments perfect for any nostalgic adult or longing teen. The final cherry on top? Academy Award winner Olivia Colman as the loving mother every child needs. Game, set, rugby match.—Samuel Maude, Assistant to the Editor-in-Chief
With its second season, this screen adaptation of Katori Hall's Pulitzer Prize-winning play solidifies itself as some of the best television out there. COVID narratives are not easy to portray as the pandemic continues to rage on, but P-Valley delivers a compelling one about the fight for survival—for both the Pynk, the Southern strip club at the center of the series, and those in its surrounding town of Chucalissa. Nicco Annan's Uncle Clifford remains as iconic as ever.—EG
Living up to The Wire is no easy feat, and We Own This City certainly pales in comparison to its spiritual predecessor when it comes to fan fervor. But that the Jon Bernthal-led series remains so overlooked is criminal; the show takes a hard look at the history of police violence in Baltimore, confronting The Wire's own legacy in a careful but captivating manner. It's well-acted, but perhaps even more importantly, it's honest about the reality of crime and punishment in modern-day America.—LPP
Had you forgotten about Barry? I'd forgotten about Barry. To be honest, I'm glad I'd forgotten—that made the sheer joy of watching the series finally return all the more palpable. Though, perhaps "joy" isn't the right word; Barry season 3 tests the boundaries of taste, its dark plot twists as diabolical as they are…well, hilarious. Bill Hader, as the titular hitman protagonist, gives an Emmy-worthy performance alongside Sarah Goldberg, Henry Winkler, Anthony Carrigan, and more. The series is one of HBO's funniest, and one of its saddest—a dangerous but deliberate mixture.—LPP
After we said goodbye to the Duke of Hastings, Daphne's brother Lord Anthony Bridgerton (Jonathan Bailey) takes center stage with his own romantic pursuits. His eyes are set on newcomer Edwina Sharma (Charithra Chandran), but her older sister Kate (Simone Ashley) questions his intentions and tries to break up their union. As Kate intervenes, though, she and Anthony end up setting off a few sparks themselves. While, yes, Bridgerton's sophomore season has fewer sex scenes that than the first, that doesn't mean it's any less sexy. Anthony and Kate's too-hot-to-handle chemistry and irresistible enemies-to-lovers arc will leave you blushing nonetheless.—EG
Amanda Seyfried has said that playing Elizabeth Holmes was "the hardest role of my life," but her hard work sure paid off. In The Dropout, she believably portrays the disgraced Theranos founder from adolescence through her rise as a Silicon Valley wunderkind and downfall after her bio-tech business was exposed as a scam. The series from Elizabeth Meriwether isn't just a riveting grifter saga, but also a story about how a blindly ambitious young woman manipulated an entire industry desperate to believe her, and was manipulated herself in the process.—EG
I've tried and come up short explaining what The Rehearsal is about several times IRL, so I'll just say it goes places. Nathan Fielder takes the approach to people and their problems that he piloted on Nathan For You and pushes it even further, giving people the absurdist chance to rehearse something in their lives before it happens. Fielder is a social terrorist, but he's fun as hell to watch. —Katherine Krueger, Features Editor
Pour one out for Search Party, the irreverent, unpredictable, satirical, and truly hilarious five-season dark comedy that wrapped up at the beginning of this year. The series' final episodes are some of its boldest, as we see Dory ascend (or descend?) into the position of cult leader who's attempting to create, and hopefully mass-market, a pill for enlightenment. It's difficult to dive too far in without giving much away, but if you thought you knew how Search Party would end, I'm here to tell you that you're wrong.—MF
RuPaul's Drag Race: All Stars Season 7
Whoever decided to bring back eight Drag Race winners for an All Stars season deserves their own Legendary Legend Star, and whoever decided to shake up the show's format deserves ten. In this rousing season of Drag Race, where no one gets eliminated until the final Lip Sync Lollapalooza for the crown, all of the winners had a chance to strut their stuff. From queens earning Legendary Legend Stars when they fell in the top two to blocking one another from receiving a star the following week when they won the Lip Sync for Your Legacy, it truly felt like a joyous season of, as Monét X Change put it, "Drag Survivor." Oh, and let's not forget what is quite possibly the best Snatch Game of all time. Queen of All Queens? More like Season of All Seasons.—SM
After an almost three-year wait, we finally reunited with TV's most popular—and perhaps wildest—high schoolers. While Zendaya continues to prove she's the best performer of her generation, her co-stars also began to earn their due this season, like Sydney Sweeney, who was rightfully nominated for an Emmy, and the effortlessly chill Angus Cloud, who showed off his range with Fez's heartbreaking scenes. Let's not overlook Nika King and Storm Reid as Rue's mom and sister, either. Euphoria creator Sam Levinson may draw the internet's ire, but the cast keeps us all hooked.—EG
Conversations with Friends
If the craze around Sally Rooney's Normal People adaptation on Hulu in 2020 was any indication, Conversations with Friends—an adaptation of Rooney's first novel—could have become a massive spectacle. The series didn't quite take off in the manner of its predecessor, but the performances from Alison Oliver and Joe Alwyn as Frances and Nick, friends-turned-illicit lovers, is nevertheless magnetizing. Newcomer Oliver, in particular, is a marvel, making the case for a long career ahead of her.—LPP
Unlike the seemingly endless scroll of bingeable content options screaming for your attention and formulated to hook you from minute one, Irma Vep slowly burrows its way into your psyche, similar to how the soul of the titular character steadily embeds herself within the actress playing her, who, incidentally, is also being played by an actual actress (Alicia Vikander). In this delightfully meta series—a remake of a film about the making of a serial—director Olivier Assayas celebrates the art of cinema, while simultaneously poking fun at it. (If you haven't seen Assayas' 1996 film of the same name, it helps to watch that first—both are streaming now on HBO Max.)—Melissa Giannini, Features Director
Under the Banner of Heaven
I was surprised this miniseries didn't get more buzz, because it has all the makings of a hit: a slow-burn true crime, a dive into Mormon radicalism, and a small-town cop procedural. Heaven also features a slew of great performances: Andrew Garfield as Detective Jeb Pyre, whose own faith is challenged while investigating two brutal murders in his tight-knit Mormon community; Daisy Edgar-Jones as a headstrong Brenda Lafferty, whose marriage to Allen (Billy Howle) puts her on a collision course this her husband's charismatic but increasingly violent and unhinged brothers, Wyatt Russell, Sam Worthington, and Rory Culkin among them. The series asks of what use is community, and of faith, if it brutally leaves some people behind. —KK
If you loved Mirror Bitch on Insecure, you'll stan Shawna (Aida Osman) and Mia (KaMillion) on Rap Sh!t, a new dramedy produced by Issa Rae. The leading duo are a pair of former high school classmates who form a rap group after they drop an accidental viral hit on online. As they hustle to "make it," the show tackles some tough conversations about the industry, like the pressure for female artists to dress a certain way, and whether women in the rap game can make music that's sexy and fun and still substantive. "Seduce and scheme" will be your new favorite catchphrase.—EG
As someone who loved modern whodunnits like Knives Out and Only Murders in the Building, I had a lot of fun with this star-studded murder-mystery-comedy. Sam Richardson, Zoë Chao, Ben Schwartz, Ike Barinholtz, Ilana Glazer, and Dave Franco star as former classmates gathering for their high school reunion, which quickly goes downhill when someone winds up dead. Tiffany Haddish plays the detective on the case, which turns out to be harder to solve than you think.—EG
By the end of Starstruck's first season, Jessie (Rose Matafeo, star and creator) is living in a fairytale: She's a regular girl who's fallen into an unlikely romance with a movie star, Tom (Nikesh Patel), and, in a swoon-worthy grand gesture, she cancels her flight home to New Zealand to stay in London so they can be together. So…what next? Season 2 dives into the aftermath of the big happy ending: the awkward silence after the big kiss, snapping back into reality after that dreamy high, and the clumsy first steps of getting a new relationship off the ground. Matafeo treats these moments and her characters with care and warm humor, proving she's a master of the rom-com genre. Just don't call her quirky.—EG
Only Murders in the Building Season 2
Bloody Mabel and everyone's favorite Upper West Side denizens are back—this time with some Instagram infamy and a couple of new friends, including Cara Delevingne as Alice, a mysterious British artist with a checkered past, and Amy Schumer, playing an exaggerated version of herself. In the trio's attempt to clear their name and (finally) catch the real murderer, they uncover personal secrets that distract them from their mission. Shame on you, Teddy Dimas.—CS
The Summer I Turned Pretty
This adaptation of Jenny Han's YA novel had me charmed. Giddy even. The easily bingeable beachside romance follows a love triangle between high schooler Belly (newcomer Lola Tung) and her oldest friends, brothers Conrad and Jeremiah; and it also focuses on the fierce love and friendship between their mothers. (Belly may be the star, but her mom, Laurel, is the MVP.) The soundtrack ranging from Frank Ocean to Japanese Breakfast and Taylor Swift is a big plus.—EG
With a hilarious second season of her self-titled talk show on Showtime, Ziwe Fumudoh is proving to be one of the most iconic, socially aware, and intelligent comedians on the scene right now. Her guest stars got more controversial and more influential, including Chet Hanks, Ilana Glazer, Nicole Byer, Katya Zamolodchikova, DeuxMoi, and Emily Ratajkowski, who all fumbled in the hot seat. The magic of Ziwe is that it's never too serious while addressing serious issues at the same time. Stars have to answer questions they normally wouldn't have to, and Ziwe is always looking for a "gotcha" moment. The result? A tense game of late-night talk show tennis that births countless viral moments. Trust me, I'll be thinking about Chet Hanks' freestyle love song to Ziwe forever.—SM
One upside of the Too Much TV era is that, every so often, an absolutely bonkers concept is greenlit…and it turns out to be brilliant. Such is the case with Our Flag Means Death, a romantic comedy about a handful of pirates in the early 18th century, each of them more dysfunctional than the last. There's romance and swashbuckling in equal measure, but with an added charm that ensures fans will remain invested well into the next season.—LPP
A brooding but poignant cop drama set around a Navajo reservation in New Mexico during the 1970s, Dark Winds is a smart slow burn. Based on a series of books by Tony Hillerman, the series follows Zahn McClarnon and Kiowa Gordon as partners Joe Leaphorn and Jim Chee, who are investigating a local murder that soon illuminates the issues they themselves have tried to cover up.—LPP
I'll tell anyone who will listen: This Is Us shouldn't have worked. It was too corny, too sappy, too self-indulgent. And yet, here we are. Six seasons later, there's no denying This Is Us is one of the most heart-wrenching, wonderfully delivered cable dramas of the past decade, and its final season ranks among its best. Never failing to deliver on tears, Mandy Moore and her co-stars, including Sterling K. Brown, Chrissy Metz, and Justin Hartley, turned an average family into a beloved one week after week, and NBC will be hard-pressed to find a replacement.—LPP
We got a lot of dramatized true crime sagas this year, ranging from fun (Inventing Anna) to dark (The Girl from Plainville); but none were probably quite as unhinged as The Staircase. The story follows author Michael Peterson (Colin Firth) after his wife, Kathleen (Toni Collette), was found dead at the bottom of the stairs in their home. The subsequent police investigation and trial unveils a roller coaster ride of twists and turns, sending Michael's life—and his family's—into total upheaval over the next 15 years. If you've flown through this HBO Max series, check out the original documentary on Netflix, too.—EG
With movie-length episodes, this was certainly Stranger Things'biggest season yet. That was true in the physical sense too, with the story expanding far beyond Hawkins, stretching to California and Russia at the same time. In addition to a chilling new villain, the fourth season gave us a star-turning performance from Sadie Sink, a new fan favorite (RIP Eddie), and an Avengers-like set up for its final chapter. But perhaps its greatest gift was some overdue viral fanfare for Kate Bush.—EG
Based on the eponymous Wondery podcast, WeCrashed traces the climb and ultimate demise of WeWork "and the narcissists whose chaotic love made it all possible," the synopsis says. Starring as said narcissists are Jared Leto as the startup co-founder Adam Neumann and Anne Hathaway as his eccentric wife, Rebekah. While Leto delivers another outrageous performance (and accent), Hathaway proves to be the real star as the wellness-obsessed, Gwyneth-Paltrow-name-dropping actress and businesswoman.—EG
Jake Johnson trades in Nick Miller's flannels and bootcut jeans for pinky rings and unbuttoned shirts as Doug Renetti, the sleazy but charming porn magazine publisher in Minx. (Can't say we hate the new look.) He makes a surprisingly fun duo with feminist editor Joyce (Olivia Lovibond) as they—against her chagrin and her dignity at first—create the first erotic magazine for women in the 1970s. The story isn't all girlbossing and herstory; though set against the backdrop of the women's rights movement, Minx explores modern conversations about feminism and sexual liberation that resonate 50 years later (such as, who does the movement leave out when it goes mainstream?).—EG
HBO Max found a hit in this 2021 freshman series starring Jean Smart, who plays comedy legend and Vegas mainstay Deborah Vance. When she's forced to work with a millennial writer, Ava (Hannah Einbinder), to freshen up her material, tensions and, ultimately, an unexpected partnership, arise. In the second season, they take their dysfunctional but somehow charming relationship on the road as Deborah goes on tour. The show's portrayal of the comedy industry and generational gap is equal parts hilarious and harsh—just like its leading duo.—EG
Advertisement – Continue Reading Below