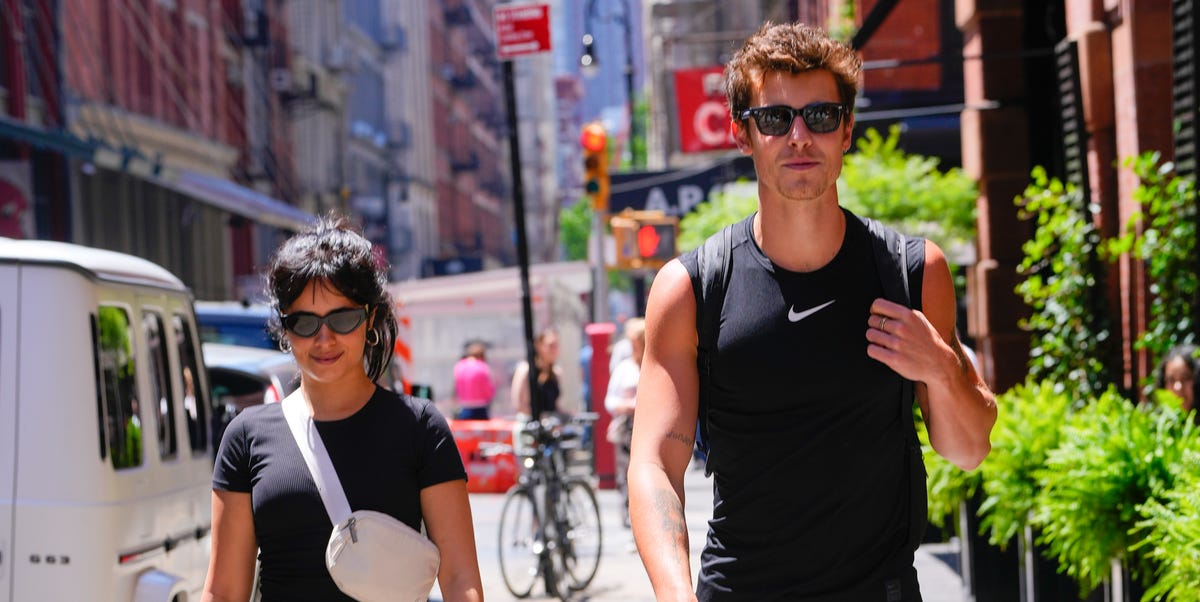 Shawn Mendes and Camila Cabello split in 2021 after many years of friendship and a few more of hot romance. They first set off dating rumors with the release of their single "Señorita" in 2019, showing off their chemistry in a very sultry music video that got their fans talking.
This content is imported from youTube. You may be able to find the same content in another format, or you may be able to find more information, at their web site.
Their relationship was covered in Netflix's Shawn Mendes: In Wonder, adocumentary that partly follows Cabello's own ode to their love, her second solo album Romance.
"For the past, like, four years, just being friends and not being able to see each other very often to finally being able to be together, she was always there to look out for me as a human being," Mendes says in the documentary. "She's got my back, and I think that's what your partner is for."
After their breakup, the musicians remained friends and even shared their work in progress with one another—which often had to do with their relationship. Then, in April 2023, they were spotted smooching at Coachella. Will these two rekindle their romance? Here's a timeline of what's come so far.
August 2015
The first photographic evidence of Mendes and Cabello meeting was at the 2015 Video Music Awards in Los Angeles. Cabello, who was still in Fifth Harmony at the time, posed for photos with Mendes at an after party for the show.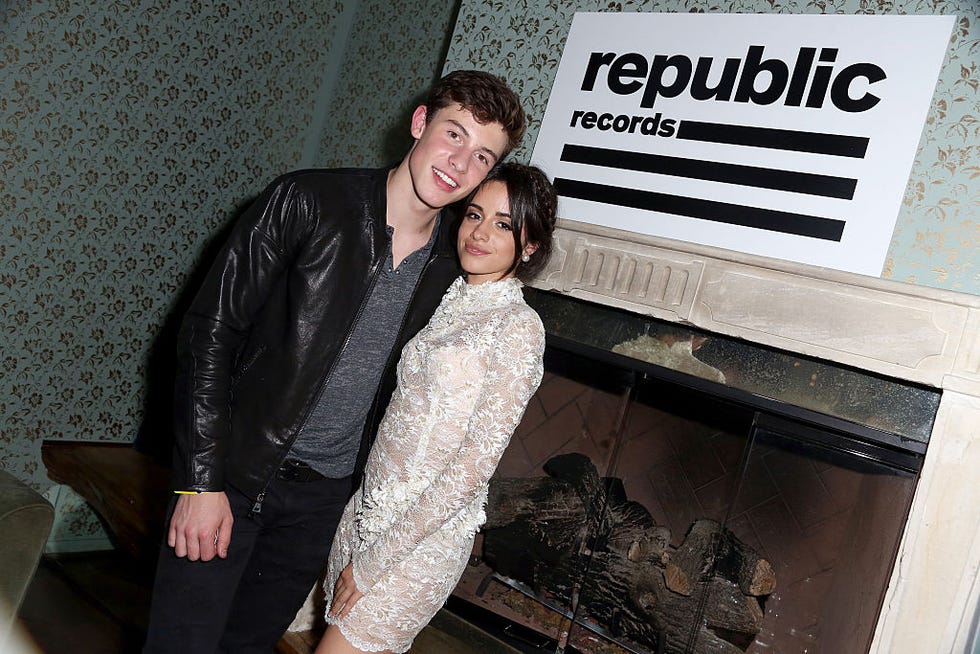 Rachel Murray//Getty Images
During Shawn Mendes: In Wonder, the couple recounts their first impressions of one another. "Camila, she was in Fifth Harmony and we were both opening my very first tour ever," Mendes recalls. "She was the act after me. I was the first in the lineup, with the shortest set, and then they went on. Five years ago, man."
Cabello remembered Mendes as "super hyper-focused," adding, "I never saw him that whole tour. He was constantly going in and out of his bus, playing guitar, writing songs with [frequent songwriting collaborator] Geoff [Warburton]."
September 2015
They reunited a few weeks later at the iHeartRadio Music Festival in Las Vegas.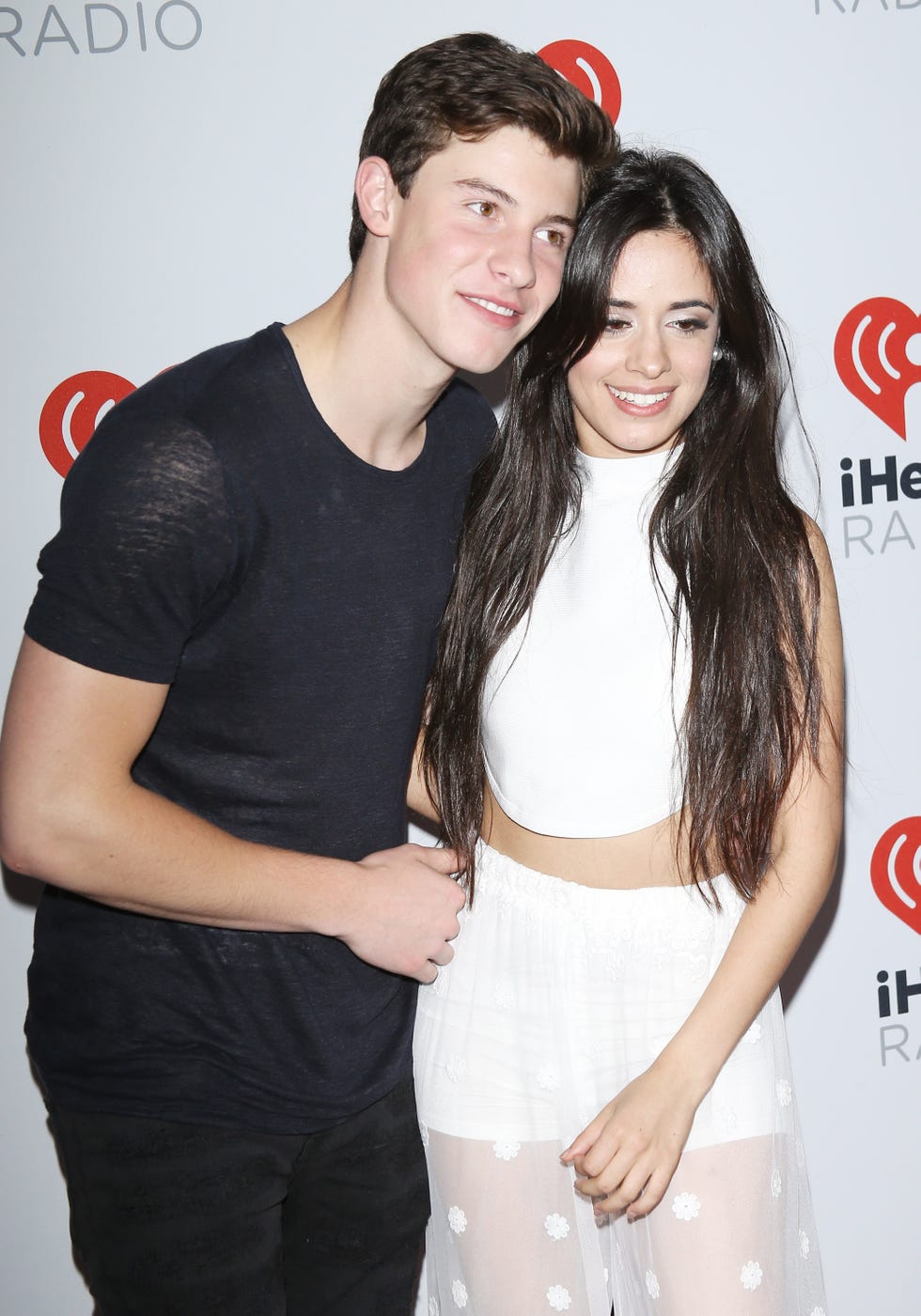 Michael Tran//Getty Images
At some point this year, the pair reconnected backstage at a Taylor Swift concert. Cabello explained in the Netflix documentary, "I went to his dressing room to say hi. And we, like, started writing this song. Then after that, we like, spent a lot of time with each other because we had the song together and we did a whole Jingle Ball tour together. And that's really when the fucking saga started. I really liked him. I guess he liked me, but I don't really know. "
November 2015
In November, the duo released "I Know What You Did Last Summer," performing it together on The Tonight Show and beyond. During an interview with Elvis Duran, Cabello spoke about their professional relationship while recording the track together.
"That's the cool part though, because we were so passionate about this song," she said. "As artists, we're both so invested in what we sing about that that makes the whole experience so much more intense."
December 2015
The two then performed the single during KISS FM's Jingle Ball show in Los Angeles, where the chemistry was…palpable.
June 2016
For the song, they ended up winning the award for Best Pop Video and Fan Favorite at the iHeartRadio Much Music Awards, going on stage to accept it together.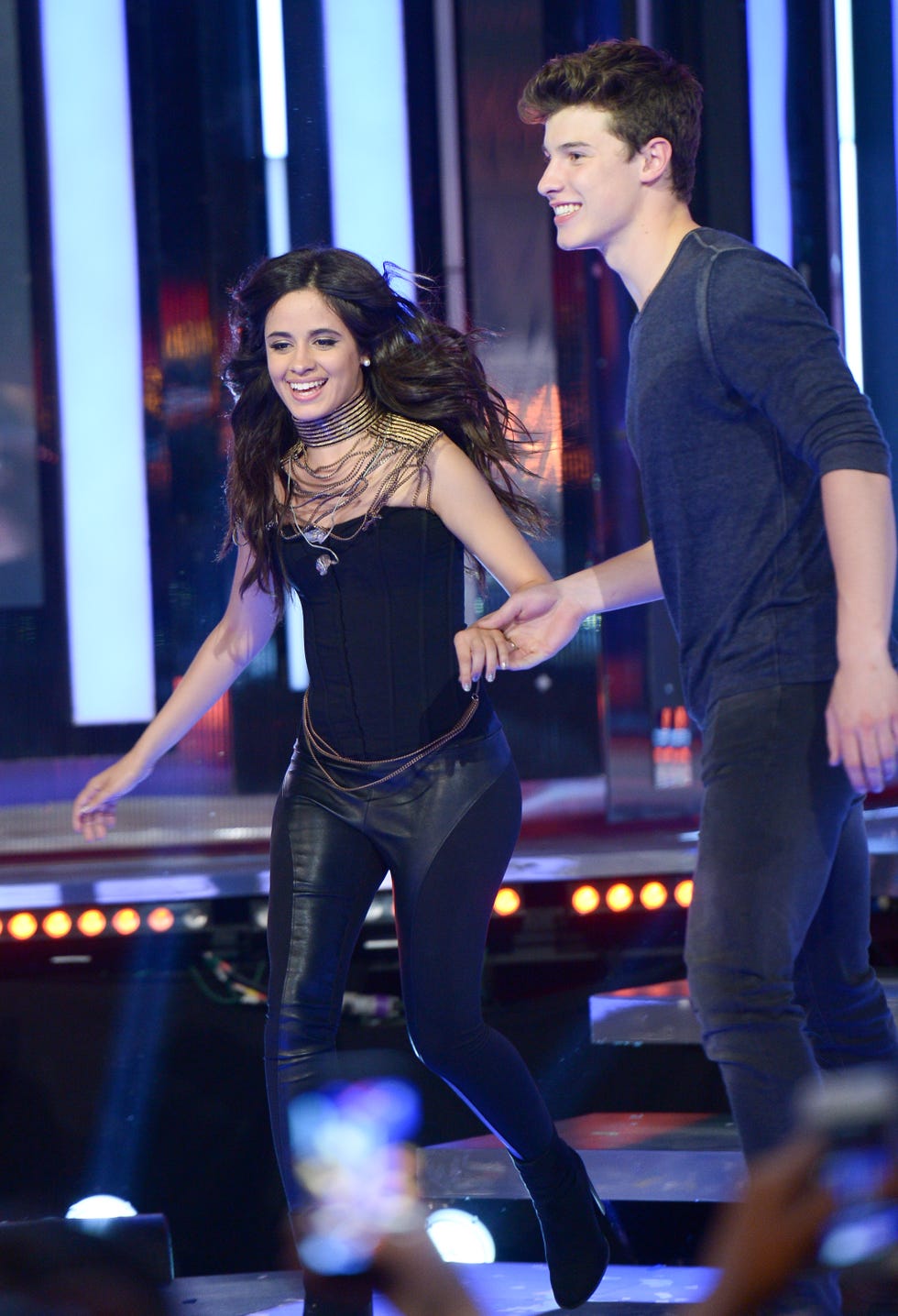 George Pimentel//Getty Images
May 2017
After Cabello released her first single, "Crying in the Club," Mendes tweeted out his support for his friend/collaborator, gushing over the song.
"Speechless.. goosebumps all over," he tweeted. "you're incredible."
November 2017
Rumors that Mendes is dating Hailey Baldwin crop up, and the two stars eventually attend the 2018 Met Gala together wearing Tommy Hilfiger. Baldwin later went on to marry Justin Bieber, and Mendes revealed that he texted her a congratulations message.
"I texted Hailey the day of, and I said congrats," he said in July 2018. "That's what it is. I think everybody wants there to be more—there's not."
May 2018
Mendes released his third album, and while promoting it, fawned over Cabello in an interview with Zane Lowe.
"Oh my God, she is my favorite person in the whole world. I don't think you'll ever meet somebody who can feel emotion like her, in all aspects," he said. "Her love for what she believed in was so powerful that it just kind of pushed me to like make an entire album out of inspiration of the one night."
The pair then posed for photos with their mutual friend Taylor Swift at the 2018 Billboard Music Awards.
February 2019
Before the Grammys, Cabello shared a few photos of her and Mendes together writing, "so proud of this amazing human !!!!!! seems like yesterday we were just kids singing ed sheeran songs in the dressing room, now we're kids trying not to throw up cause we're at the Grammys!!!! i love you forever."
June 2019
Mendes and Cabello reunited to release their summer anthem "Señorita" and the accompanying sexy video. Rumors of a relationship immediately bubbled to the surface of the internet.
This content is imported from youTube. You may be able to find the same content in another format, or you may be able to find more information, at their web site.
Meanwhile, Cabello's breakup with her boyfriend of over a year-and-a-half, Matthew Hussey, was reported by E! News.
"To my fans, if you really love me, please do not send people I love and care about hateful things," she wrote on Instagram after the split was announced.
"You doing that really hurts me, and it's so unnecessary and heavy and damaging to add more pain to pain. There's a real person behind your tweets. You spamming them with hateful, insensitive things is really not funny, is causing all of us pain, and doesn't all reflect the values I talk about."
Mendes's mom then chimed in on the inevitable dating rumors, adding fuel to the fire, leaving two heart-adorned emojis on a post of Mendes and Cabello on Cabello's Instagram. Moms!
July 2019
The rumors then seemed to solidify after the pair spent the Fourth of July holiday together that year acting…extremely couple-y.
"He was holding her at one point and they were staring into the ocean," a source told E! News. "They both were smiling the entire time and Camilla was laughing a lot. They rarely mingled with other people and were together the entire evening. They were telling people they were a couple."
A few days later, photos showed the two hugging in the wide-open public. The two went to brunch together a day after Cabello went to Mendes's concert in Los Angeles.
"@shawnmendes you couldn't be more amazing. Wow," she wrote on Instagram before the show.
The next week the couple (it seems safe to call them that now) were getting very hot and heavy while in San Francisco, with plenty of cameras to document their public make outs and hand holding.
"They looked very much like a couple. You [could] see them making out at the table," a source told Us Weekly. "They looked very into each other. Shawn and Camila were splitting pancakes. Then after, they started kissing. He had his arm around her a lot of the meal, and they were chatting—not too much laughing, but they looked in love. They were there around 10:30 A.M. and not too many people noticed who they were."
Cabello continued following Mendes on tour throughout the month. In late July, the new couple was filmed kissing in Florida and made a splash (literally) when photos came out of them kissing in both the ocean and a pool in Miami Beach. E! reported that Cabello's family was at Mendes' Miami show with her.
During the month, E! and Entertainment Tonight ran comprehensive reports from sources on what the status of their relationship was.
E! published its report first. Its source explained that their romance was moving fast because they were close for years before. "It already feels to them like they've been together for a lot longer than they have," the source said. "They've known each other and been a part of each other's lives for a while so it's all very natural and moving quickly."
That's partly why Cabello started following Mendes on his tour, the source added.
"The timing wasn't right before but it is right right now," the source said. "They are going for it without holding back. This step in their relationship is exciting for them both. They haven't wanted to be apart at all. It's 24/7 and all out at this point."
Entertainment Tonight ran its report the day after Mendes and Cabello's Miami Beach makeout photos came out. Its source explained that Cabello and Mendes hadn't intended for their relationship to become what it was blossoming into.
"Shawn and Camila originally were just enjoying spending time together and having a summer fling," its source said. "Camila had just got out of a relationship and Shawn was in the middle of a massive tour. But Shawn and Camila have really fallen for one another."
August 2019
In an interview with Variety, Cabello hints at the role her relationship has played in her recent music. "Falling in love is like an infinite amount of levels and layers and angles," she told the outlet. "I fell in love and just opened up. Everything was written in present moment."
In the same piece she said, "I've known Shawn for such a long time, and it's so much fun getting to work and do things with somebody who means a lot to you."
For Mendes' 21st birthday, Cabello was by his side. The two were photographed walking the West Village together after lunch at the restaurant, Jack's Wife Freda. E! reported that the couple attended a party for Mendes at Harriet's Rooftop & Lounge at the 1 Hotel Brooklyn Bridge. A source said the event was "very low key but [Mendes] did get loose with his friends. Shawn and Camila arrived together holding hands and everyone inside cheered for them as they walked in."
The insider went on to say, "Shawn was having fun playing beer pong with his friends and had a smile on his face the entire night. Camila was by his side the majority of the night and they looked really cute together. They took photos together and were on the beer pong table together at one point. Camila also planted a huge kiss on Shawn during the night and it was super cute."
Cabello also shared a throwback photo of the couple to Instagram. She even dropped the L word in the caption, writing, "Happy birthday to this magic human, I love you!!!!"
Towards the end of the month, the pair seemed to make their summer romance even more public. On August 19, they were spotted kissing during dinner at Montreal's Cafe Aunja.
On August 23, Cabello was ever the supportive girlfriend at Mendes' Brooklyn concert. Per an Us Weekly source, "Camila came out a little more than halfway through Shawn's concert at the back of the floor on a raised platform. When Shawn introduced his song 'Fallin' All in You,' he ended with, 'This one is for my Mami!' and he pointed to Camila." They were also seen making out at Extra Virgin restaurant the same day.
The VMAs marked the first major event the duo attended since becoming a high-profile celebrity couple. At the awards show they won the award for Best Collaboration and displayed some major PDA, despite walking the red carpet separately.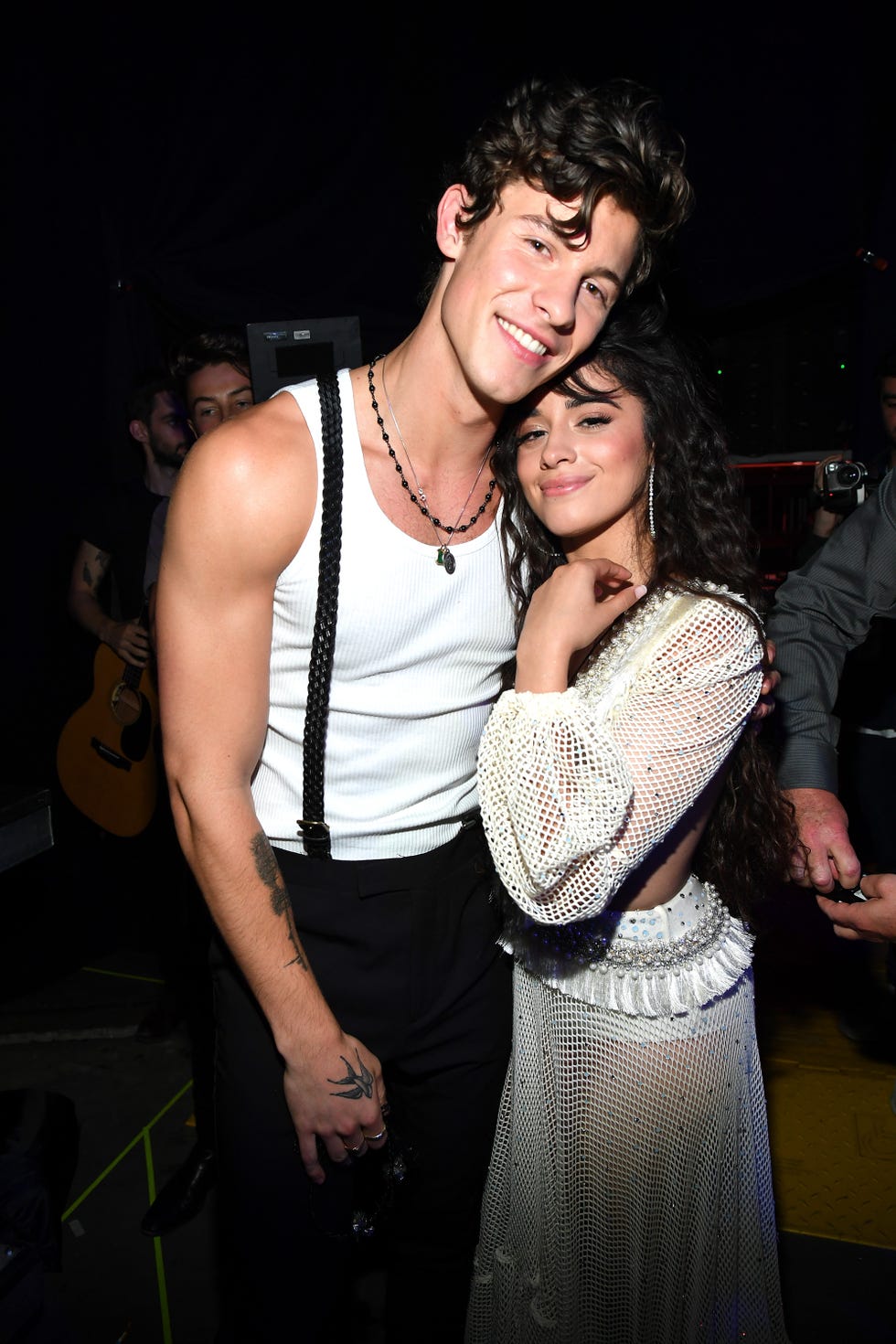 Kevin Mazur//Getty Images
But the only thing anyone could talk about was Mendes and Cabello's steamy performance of "Señorita," which catapulted to the top of the Billboard Hot 100 chart shortly after. The entire performance was filled with chemistry, but it was the almost-kiss at the end that got the likes of Taylor Swift and Sophie Turner excited.
This content is imported from twitter. You may be able to find the same content in another format, or you may be able to find more information, at their web site.
Both Cabello and Mendes thanked fans on Instagram for their love and support, with Mendes sharing photos of the couple holding hands backstage.
Around this time, Cabello and Mendes were living together in the same West Village apartment.
"At this moment in time, during the summer of whatever you want to name this summer, during 'Señorita' and 'If I Can't Have You,' Camila and I are staying in an apartment in New York City for the very first time alone," Mendes said in his 2020 Netflix doc, adding, "And making eggs and trying to figure out how to use a Keurig. Normal things, you know? This is really cool to just be like a 21-year-old guy."
September 2019
Mendes and Cabello's relationship remained looking strong publicly. The two were spotted kissing while on a stroll through Toronto.
Then, Cabello took a major step in her relationship, telling ELLE that she'd fallen in love this year…and making it clear the person she's in love with is Mendes.
"Honestly, this past year and a half was the first time I really experienced falling in love with another person. I think there is so much more depth to love when you know you are in it with another person. You have so much more to say—I think that's what makes me emotional," she said. "I've loved people from afar, but falling in love with someone and having feelings for someone but they don't know…. It's different."
Shortly after, while at LAX airport, Mendes was asked whether his and Cabello's relationship was fake, considering the strategic timing of their single and burgeoning romance.
"Look, one last thing, some people say that it's a publicity stunt, and you say?" the paparazzo asked.
"We're definitely not a publicity stunt," Mendes replied.
When asked whether he'd met his girlfriend's family he responded, "Camila's parents I've known for a long time."
October 2019
After the PDA-filled video, Mendes and Cabello became less tight-lipped about their blossoming romance. On UK's Capital Breakfast radio show, Cabello said, "We're pretty happy. I really, really love him a lot."
She also gave insight into how the pair turned from friends into something more. "There was a period where we didn't hang out as much just because we were both busy, and this song was really fun because we got to just hang out again like we did on the song we did before, 'I Know What You Did Last Summer,'" she said. "Which was when we got really close….We were like 'oh yay, we get to be pals and just hang out!'"
After that, she spoke to The Sun's Dan Wootton about the origins of their relationship—and the anxiety that accompanied it since they were close friends before they dated. "It's almost more scary because you have more to lose," she said. "When you first start dating a person and you know nothing about them, there's less at risk there. I think when you fall in love with somebody you've known for a long time, there's more at stake."
"But it also feels more special because it feels like the love story you see in the movies of people who have known each other for a long time but been too stupid to realize it or say it and then it happens—and that's beautiful too," she added.
Cabello also admitted that she was attracted to Mendes from the beginning. "Definitely there were feelings, but I think we were just too young to know what to do with them," she said. "The thing I've always loved about Shawn so much is that he just radiates this goodness. He's always been so kind."
Next, it was Mendes' turn to kiss and tell. During a fan Q&A, he was asked about a typical date with Cabello. "Camila and I will basically wake up and find the nearest coffee we can find," he began. "She'll have, basically, half a coffee and I'll have, like, three. We're always in different countries and cities when we hang out with each other. Probably find some food, then an hour later we'd be like, 'Are you hungry?' and we'll eat again. Probably watch a movie, Tangled. She loves Tangled."
This content is imported from twitter. You may be able to find the same content in another format, or you may be able to find more information, at their web site.
Fan: "What's an average Shawmila date?"

Shawn: "Camila and I will basically wake up and find the nearest coffee.. She'll have half a coffee & I'll have like 3. Probably find some food, then an hour later we'd be like, 'are you hungry?' Probably watch a movie. She loves tangled." pic.twitter.com/eFUfOBaOGg

— MCI (@MendesCrewInfo) October 5, 2019
When asked his favorite topic to discuss, Cabello came up again. "I don't know. Camila is so good at coming up with random topics," he said. "One time we were having dinner and she pulled out this phone and a list on this phone was like, 'What would you do if it was the last day on earth?'"
During an interview with ITV's Lorraine, Cabello disclosed that a few tracks on her upcoming album Romance would address her romance with Mendes. "Towards the end there were [songs about Mendes], yeah, yeah." She also confirmed that things between the two were better than ever. "I've known him for such a long time and I don't know, he just feels like home to me," she said, via Entertainment Tonight. "Yeah, I'm really happy."
By the end of the month, Mendes had shared a sweet of snap of him and Cabello kissing to Instagram. It was simply captioned with, "."
November 2019
Entertainment Tonight reported that Cabello revealed where she and Mendes had their first date and kiss. The pair was in San Francisco, where they were spotted making out on July 12. Previously, Mendes said, "We haven't been dating for that long. We have been dating since July 4th officially," which means they could have differing opinions on the date of their first official outing as a couple.
The couple's PDA tour continued, smooching court side at the Los Angeles Clippers and the Toronto Raptors game at Staples Center on November 12. No kiss cam required.
Six days later, they treated paparazzi to some kissing while dining at Giorgio Baldi in Santa Monica.
Later in the month, Rolling Stone published a profile of Cabello where she talked about the origins of her love story with Mendes. She revealed that while working on the 2015 song "I Know What You Did Last Summer," they initially connected. She told the outlet:
"I really bonded with him as more than a friend. I think he did, too, but we were both really young, and he was experiencing the pressures of his career. I don't think we knew what to do with those feelings. It was this awkward thing where we both liked each other, but we weren't together. It was just weird. An energy was there from the beginning, but after that song, we didn't spend as much time together. Our paths just didn't cross in that way romantically until we started hanging out again and writing. For me, it just brought it back."
The American Music Awards brought some classic Mendes and Cabello behavior. They kissed from the front row, performed "Señorita" up to the point of kissing before stopping, and won the award for Collaboration of the Year.
December 2019
On December 6, Cabello released her album Romance, which as the title would suggest, features a lot of relationship talk. Ahead of the release, Mendes told Ellen DeGeneres while on her show, that the record was in fact "about being in love," adding, "I was basically completely single for 20 years, and it was like the intensity and adrenaline of my life was in the studio, writing about an emotion that I wanted whereas this time, it's just been a lot that has happened and I've fallen in love and out of love and in love, and that's basically what this album is about is just kind of falling in love and what that feels like."
When asked by DeGeneres if Cabello and Mendes had feelings for each other back in 2015, 2016, she replied, "We were stupid. I think we both had a crush, but we were being babies about it. But we're grown now!"
As for the album, references to her romance with Mendes are everywhere. In singles "Liar" and "Shameless," she said, "They're both about the same situation… I was denying feelings for this person for a long time. And before I would see him, I'd be like, 'I don't like him, I don't like him. What, I don't like him.' And then I would be like 'I like him.'" This would nod to Cabello and Mendes being friends before becoming romantic.
In "Used to This," she sings, "No, I never liked San Francisco / Never thought it was nothin' special / 'Til you kissed me there / No, I never liked windy cities / But I think maybe when you're with me / I like everywhere (Oh)." That would refer to the month prior, when she told a crowd at Apple Music's New Music Daily performance that she and Mendes shared their first date and kiss in San Francisco.
This content is imported from youTube. You may be able to find the same content in another format, or you may be able to find more information, at their web site.
As for Mendes? He shared on his Instagram Stories that he was streaming the new album.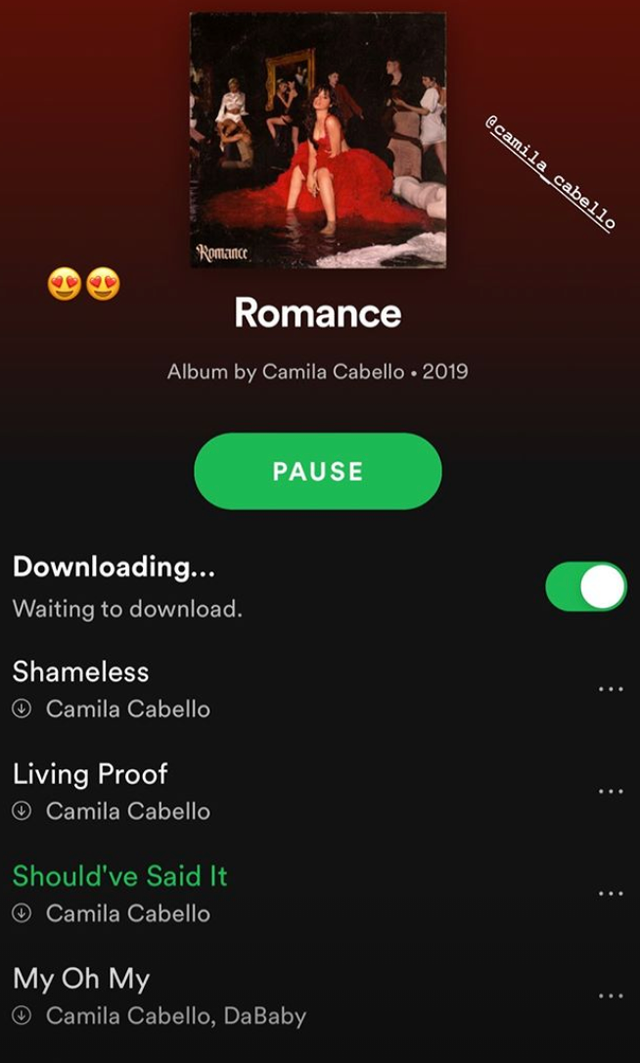 Instagram
March 2020
During the coronavirus outbreak, Mendes and Cabello quarantined together. On Friday, March 20, they put on a livestream concert from their remote Miami location; the show featured four songs and was sponsored by Global Citizen and the World Health Organization.
They had several cute moments during the 20-plus-minute show, but the best might have been when Cabello defended Mendes's long hair from critics.
"I like it a lot," she said. When a Shawn Mendes fan account wrote that Mendes's hair looks great, Cabello said, "I am 'Shawn Mendes Updates'—secretly."
This content is imported from twitter. You may be able to find the same content in another format, or you may be able to find more information, at their web site.
They also talked favorite Harry Potter characters and revealed they are re-watching the whole film series during quarantine.
This content is imported from twitter. You may be able to find the same content in another format, or you may be able to find more information, at their web site.
A few days after their livestream, the couple began their now-infamous joint quarantine walks. The pair was photographed strolling through a Miami neighborhood holding coffee mugs as they dramatically kissed. Mendes was shirtless, wearing black slides and several necklaces. Meanwhile, Cabello wore a patterned maxi dress and flip-flops.
Cabello and Mendes celebrated the one-week anniversary of their quarantine kiss by recreating it for the waiting paparazzi. The couple wore basically the same outfits for their outing (Mendes had a shirt on this time) as they drank coffee. Cabello sipped her brew from a Minions coffee mug while they walked, albeit at a notably slow pace.
April 2020
The couple decided to surprise patients at Children's National Hospital in Washington D.C. on April 7. Cabello and Mendes teamed up with the Ryan Seacrest Foundation to video chat with patients, dance to music, and give updates on their joint quarantine.
Cabello also shared video from the day, captioning an Instagram post, "Kids are the light of this whole world!!!!! We hung out with some friends at the hospital in DC yesterday – thanks @ryanfoundation for bringing smiles to these kids, who are brave and spunky and warriors everyday!"
During their time at home, the pair has also lent their musical talents to a few virtual concert specials. Cabello and Mendes performed an acoustic version of her song, "My Oh My" for the "iHeartRadio Living Room Concert For America" on Fox. Mendes accompanied Cabello on the guitar as she sang:
Next, the couple lent their voices to Global Citizen's "One World: Together At Home" broadcast on Saturday, April 18, alongside the likes of Lady Gaga, Taylor Swift, and Lizzo.
May 2020
Cabello shared an update from quarantine with Mendes on Instagram, posing with his dogs.
Later that month, the couple joined protesters marching at Miami's Black Lives Matter rally in the wake of George Floyd's murder. Miami Herald reporter Bianca Padró Ocasio posted photos of them protesting on Twitter.
This content is imported from twitter. You may be able to find the same content in another format, or you may be able to find more information, at their web site.
September 2020
After months of silence from Mendes and Cabello regarding their relationship, she shared a sneak peek video from his new album. "the world could use some magic, beauty, and Wonder always, but especially right now. @shawnmendes what a gorgeous gift to the world. He's crafted this album with every last bit of his soul, his spirit, and his essence with the purest of intentions. My love, I'm so proud of the person you are and I'm so excited for people to see and hear your heart. ️" Cabello wrote on Instagram.
October 2020
As Mendes began the press tour for his upcoming album, Wonder, he also offered an update on his relationship. "I thought that I was a pretty open, emotional, guy until I started being in a relationship with someone that I really, truly love and, realizing that, 'Oh no, I really have this big ego, and I don't want to show her that I'm hurting and I don't want to show her that that offended me, and like I want to be the man, and I want to be strong in this relationship,'" he told radio.com. "It actually was hurting our relationship."
He also spoke about how supportive Cabello has been of his upcoming release. "She really was a champion for this album," Mendes explained. "I remember back when I first started a lot of the concepts, and they felt a little bit intimidating. She was like, 'Go, keep going, keep going.' And she would do this thing like once a month, 'Hey, just a reminder, this concept you're on is incredible. It's going to make people feel something really special. Don't stop. Don't stop. Don't stop.'"
This month, Mendes shared his first photo with Cabello in weeks. "reina 🦋" he captioned the candid, which translates to "queen" in English. Cabello commented, "Mi Rey," which is "my king" in Spanish.
Next, Mendes spoke to SiriusXM Hits 1's Nicole Ryan and SiriusXM's Jim Ryan in two different interviews about Cabello's inspiration in his career. "I haven't seen her actually in like a month and two weeks, not that I'm counting," he told Nicole Ryan, referencing Cabello's Cinderella filming schedule. "She's back really soon and I think it's interesting 'cause when your girlfriend is an insanely talented, real musician who writes her own music, it's scary to write an album around her. And she was with me when I was kind of in the studio doing it. I realized the trick is like, show her the really rough demo version from your phone that you recorded, and if she doesn't like that, she'll tell you, then don't wait to show her the mixed finished product. Because if she doesn't like it then, then you're kind of, I don't know what to say to you. I'm sorry."
This content is imported from youTube. You may be able to find the same content in another format, or you may be able to find more information, at their web site.
When speaking with Jim Ryan, Mendes said that quarantine has made his relationship with Cabello stronger. "It's funny 'cause there was like a real time when she was doing her thing and then I was doing my thing and we were together, but like, also working separately and the quarantine brought us together and now we've kind of become one, where we're doing our thing," he said. "And it's really interesting how that dynamic changes when, especially when your girlfriend's a writer and a musician and she's incredible, you have two options. You can be really scared and intimidated or you can be like, 'Oh, I should probably ask you for some help or like what you think.'"
This content is imported from youTube. You may be able to find the same content in another format, or you may be able to find more information, at their web site.
Mendes went on to say of Cabello, "I don't know if she's credited all over the album, but she should be, because there was nobody during the time that was giving me more advice and encouragement to just stick to the way I felt about the music that I wanted to make, you know?"
By the end of the month, Cabello and Mendes were back to their usual couple posts on Instagram. "heheheheheh" Cabello captioned a photo of herself wrapped around her boyfriend.
For Halloween, Mendes shared a photo of the pair in their costumes. "Me, but beat up, and a Miami witch. THE HALLOWEEN SPIRIT IS NEVER CANCELED !!!!!!!! (caption by camila)" he wrote alongside the snap.
November 2020
At the beginning of the month, Mendes and Cabello took a major step in their relationship—getting a dog together. "Hi Tarzan 🥺️" Mendes captioned a post that included Cabello playing with the new pup. She also announced the dog's arrival with her own post featuring Mendes.
For the cover of VMAN, Elton John interviewed Mendes and he again opened up about his Cabello romance. He confirmed how long they'd been dating ("Almost a year and a half. We've known each other for like, six or seven") and the "very" calming effect she has on him. "I started reaching back out to my family and friends and all of these connections I felt were further away…I felt a little bit alone out there and she changed that for me," Mendes told John.
He also continued to praise her musical sensibilities. "There is a song on the record called 'Song for No One,'" Mendes said when asked about his favorite track on Wonder. "I wrote it three years ago, and it was before any conceptualization of this album. It was after three days of striking out, and we gave up the room. I started playing this really eerie guitar part, super small. The whole thing is really sad; [I was] not with Camila at the time. I was a little hungover and wishing I was with her. The producer I was with was like, 'Okay, keep this, I have this grand idea for it.' Next thing I hear, it goes from this beautiful minor progression string swell to this massive '60s fill, and opens up into a major progression with horns and string and harp parts, and it's like the drops open…I don't know what it is about that one, but that one, in particular, gets me."
Amid his interviews about Cabello, Mendes captioned a selfie with her using a single heart emoji.
Then he talked about Cabello again in an interview with Apple Music's Zane Lowe:
A lot happens when you fall in love for the first time, because you really feel this support, this grounded, 'Hey, if everything goes away, I'm going to be okay.' It's perspective, and it's beautiful. And it really allows you to be like, 'Okay, well, if I'm going to do this [make music, etc.], I might as well be doing it for the right reasons and really, really, really enjoying it.' Otherwise, I'd just rather watch movies with you all day.
This content is imported from youTube. You may be able to find the same content in another format, or you may be able to find more information, at their web site.
Mendes also continued to be candid about how his own insecurities played a role in his romance with Cabello. "I have always considered myself a really vulnerable guy, I was the guy who wrote In My Blood. I'm the guy who talks about anxiety. I'm cool, I'm sensitive, I'm vulnerable, I always thought of myself that way until I had a girlfriend who I was so serious about, then I realized how much I was scared of being the weak man," he said. "I mean, I went through a month where I couldn't really even communicate with her because I was struggling with anxiety and I didn't want her to see me weak. And I was on the verge of ruining our relationship. And then when you come out on the other end and you're like, 'Listen, I'm struggling here, it's hard for me to even say this to you.' And everything starts building and growing and getting stronger and the roots fortify, and you look around and you're like, 'Oh shit.' Bravery. That's bravery. That's strength."
With the Nov. 23 release of his Netflix documentary, Shawn Mendes: In Wonder, the Grammy nominee offered new insight into the couple's love. Most notably, Mendes claimed that every song he's written is about Cabello. "We were in New York and my song comes on the radio or something, and the fact comes up that it's about her, and I'm like, 'Yeah, it's about you.' And I'm like, 'Everything is about you. They've always been about you,'" he admitted during In Wonder. "She goes, 'What do you mean?' I'm like, 'They're all about you. Like, every song I've ever wrote.' And I'm, like, rhyming off the songs. I'm like, 'Treat You Better,' like, all these songs. And she's like, 'Oh, my God.' She literally had no idea. This whole time I thought she, like, knew."
This content is imported from youTube. You may be able to find the same content in another format, or you may be able to find more information, at their web site.
Mendes went on to say that no matter how many love songs he writes for Cabello, they will never describe their connection accurately. "I don't think I'll be able to write songs that really do it justice, that can really capture the things and the feelings with her," Mendes explained. "I think it's like when you see a moon or stars and you try to take a photo of it with your iPhone, and then you just can't, it just doesn't look good. And you're like, 'It's not supposed to be captured.' You know? It's just supposed to be for us."
December 2020
On December 5, Mendes and Cabello released a brand-new duet of "The Christmas Song," which is featured on the holiday deluxe version of Mendes's new album, Wonder.
"This has been such a crazy year with so many challenges. This holiday season, it is more important than ever to spread love and kindness to everyone! Shawn and I wanted to send all our love to you amazing humans so we put together something special for you, our rendition of #TheChristmasSong," Cabello wrote, in part, on Instagram.
In an interview with Entertainment Tonight's Katie Krause on December 4, Mendes revealed that he and Cabello talk about getting married.
"Is she your forever person? Do you talk about an engagement one day?" Krause asked Mendes.
"Yeah, absolutely, I think for me it's always been if I'm not willing to talk about that stuff then I kind of check out a little bit, and I don't know, I really think when you know, you know," he said. "She's been one of my best friends since I was, like, 15 years old. I don't know, at the same time, I know we're really young so I don't want to jump, like, insanely fast, but I think when you find your person, you feel and you know that you have found your person."
In an interview with SiriusXM Hits 1's Celebrity Session, Mendes revealed the moment when Cabello unfriend-zoned him. "I think I was just bugging her along for a long time about how I felt about her," Mendes said. "I think I was in Calgary or Edmonton, Canada, and I was at dinner with two of my friends and she texted me basically being like, 'Okay, fine. I like you. Okay, fine. This is a thing'" he said. "And I have the text, I have this, I screenshotted the text messages. 'I was like, finally, she caved. It was so great.'"
Mendes also spoke on how it feels to be loved by Cabello. "She is completely all in or nothing," he stated. "And I think that's something that I wasn't at the beginning of our relationship. And I think that a lot of people maybe are afraid to be all in, because if you're all in, then you kind of, it hurts it. The blow hurts that much more if it ends, you know?"
"But she really teaches me that if we have one life, and we don't have much time here, it might as well be all in if you're in love with someone and you're there," he continued. "And I kind of learned that every day. She's so absolutely patient with me, especially when I'm stressed or anything is kind of getting to me. She'll text me. And if I ever am kind of just being bite-y with her and she'd be like, 'It's okay. I love you. No matter what I love you, no matter what.' And it's like, that's real strength and patience and love. But it's amazing. It's like a movie."
January 2021
Cabello and Mendes remained very much together during a Miami sighting. The two were seen dressed up, walking their dogs with Cabello's parents in photos run on Daily Mail. Cabello was wearing a long peach button-down dress with an oversized multicolored cardigan, while Mendes wore an unbuttoned gray shirt with blue jean pants.
February 2021

The couple shared their love for each other on Instagram for Valentine's Day. Mendes posted a picture of himself kissing Cabello's feet. "I kiss your foot cuz I love you," Mendes captioned the post.
Cabello shared a PDA-filled photo of her and Mendes sharing a kiss. "My Valentine's got a ponytail! Happy love and friendship day," she captioned the post.
March 2021
On March 3, Mendes shared a sweet Instagram post for Cabello's 24th birthday. "Happy birthday to the kindest, bravest, and most beautiful person I've ever known. I love you more every day mi vida [my life]️," he captioned the candid photo of himself and Cabello.
In late March, the couple was spotted on a rare outing in Los Angeles. The couple let the paparazzi know that they are deeply in love as they shared a passionate kiss while walking their dog, Tarzan.
April 2021
Cabello took to Instagram to share her love for Mendes as she posted a sweet photo of Mendes kissing her on the cheek. "I love my baby!" Cabello captioned the picture.
May 2021
Cabello and Mendes were spotted on a rare outing as they ran errands together. Paparazzi photographed them as they went to a local grocery store in West Hollywood, with some shots appearing on Daily Mail. The private pair kept things casual as Cabello wore tan slacks with a matching crop and cardigan, while Mendes wore a tan half-zip sweater with navy sweatpants and slippers. The pair were both wearing masks as well.
November 2021
The couple split in late 2021, and announced their breakup in a joint statement.
"Hey guys, we've decided to end our romantic relationship, but our love for one another as humans is stronger than ever," they said. "We started our relationship as best friends and will continue to be best friends. We so appreciate your support from the beginning and moving forward."
March 2022
On March 4, Cabello released a track that seemed to reference her split from Mendes. Her new song "Bam Bam" which included the lyrics, "You said you hated the ocean, but you're surfin' now / I said I'd love you for life, but I just sold our house/ We were kids at the start, I guess we're grown-ups now / Couldn't ever imagine even havin' doubts / But not everything works out, no."
Mendes does indeed surf, Cabello did sell her house, and they certainly covered a lot of their young adulthood together. In an interview with Zane Lowe during an appearance on Apple Music 1's New Music Daily, Cabello discussed the break up as well.
"My priorities have fluctuated and my focus has changed throughout my life," she explained. "Those years that we were dating, I don't even feel like, even while I was writing this album, and even still now, I guess, my focus is really on, How can I be a well-rounded person? And apart from my career, my focus wasn't even on my career."
She added, "And same thing with those years that we were together. My focus was just, How can I live a happy life and be in a healthy, happy relationship? I was doing therapy a lot. My focus really has shifted. And even now while I'm in promo mode, honestly, if I'm not having fun, what's the fucking point? I think as I get older, yeah, the priorities shift. And I feel like that was that way for both of us. Because we both started so young too, we're really learning how to be healthy adults. And that sometimes means not having your number one focus be your career. And that's okay."
That same month, Mendes talked about single life in an Instagram video.
"You don't realize when you're breaking up with someone…you think it's the right thing to do, you don't realize all this shit that comes after it," Mendes said. "Like, who do I call when I'm, like, in a panic attack? Who do I call when I'm, like, fucking on the edge? I think that's the reality that kind of hit me. It's like, 'Oh, I'm on my own now.' Now I feel like finally, I'm actually on my own, and I hate that. That's my reality, you know?"
April 2022
During an interview with Extra, Mendes discussed his song "When You're Gone" and said he had shared the song with his ex before its release.
"Camila and I have always been writers for as long as we've known each other, so we understand what that means," he said. "And we respect what that means. And there'll always be transparency between us."
This content is imported from youTube. You may be able to find the same content in another format, or you may be able to find more information, at their web site.
He then told E! News, "Camila heard this song months ago, so we have a really honest relationship. I would never really put a song out about her before she would hear it… She knows me and I know her, and ultimately, we both are writers and we both know what it is to make music and what the bigger picture of making art is. We're supportive of that, always."
April 2023
On the first weekend of Coachella in Indio, California, Cabello and Mendes were spotted hanging out in a video shared by KIIS 102.7, with footage of them sharing a kiss circulating later that night. The PDA sparked rumors the pair had rekindled their romance.
But a source told Page Six, "Shawn and Camila remain friends with a lot of love and history between them, but they aren't dating again. They've stayed in touch since their breakup and decided to meet up at Coachella since they were both going."
The kiss was a "one-off," and "one thing led to another as the night progressed."
But then a week later, Australian journalist Jessica Rendall shared a video of Cabello and Mendes walking while holding hands in Los Angeles to her Instagram Story, writing that they are "CONFIRMED back together."
Another source told Page Six on April 20 that Mendes and Cabello now exploring their relationship and a possible reconciliation.
"[They are] hanging out again," the source said. "They're enjoying getting reacquainted and seeing where it goes. [They] care about each other a lot."
A source echoed that to Entertainment Tonight on April 25, saying they weren't quite reconciled yet. "Shawn and Camila aren't officially back together, but they are enjoying each other's company and seeing where things go," the source said.
"When they met up and kissed at Coachella, they were having fun and being in the moment together," the source added. "They are both attracted to each other and care about one another a lot. They are having fun."
May 2023
On Tuesday, May 23, and then again two days later, Mendes and Cabello were seen walking through New York City holding hands on casual dates. Earlier in May, they were spotted together in Los Angeles enjoying a show at Hollywood Improv.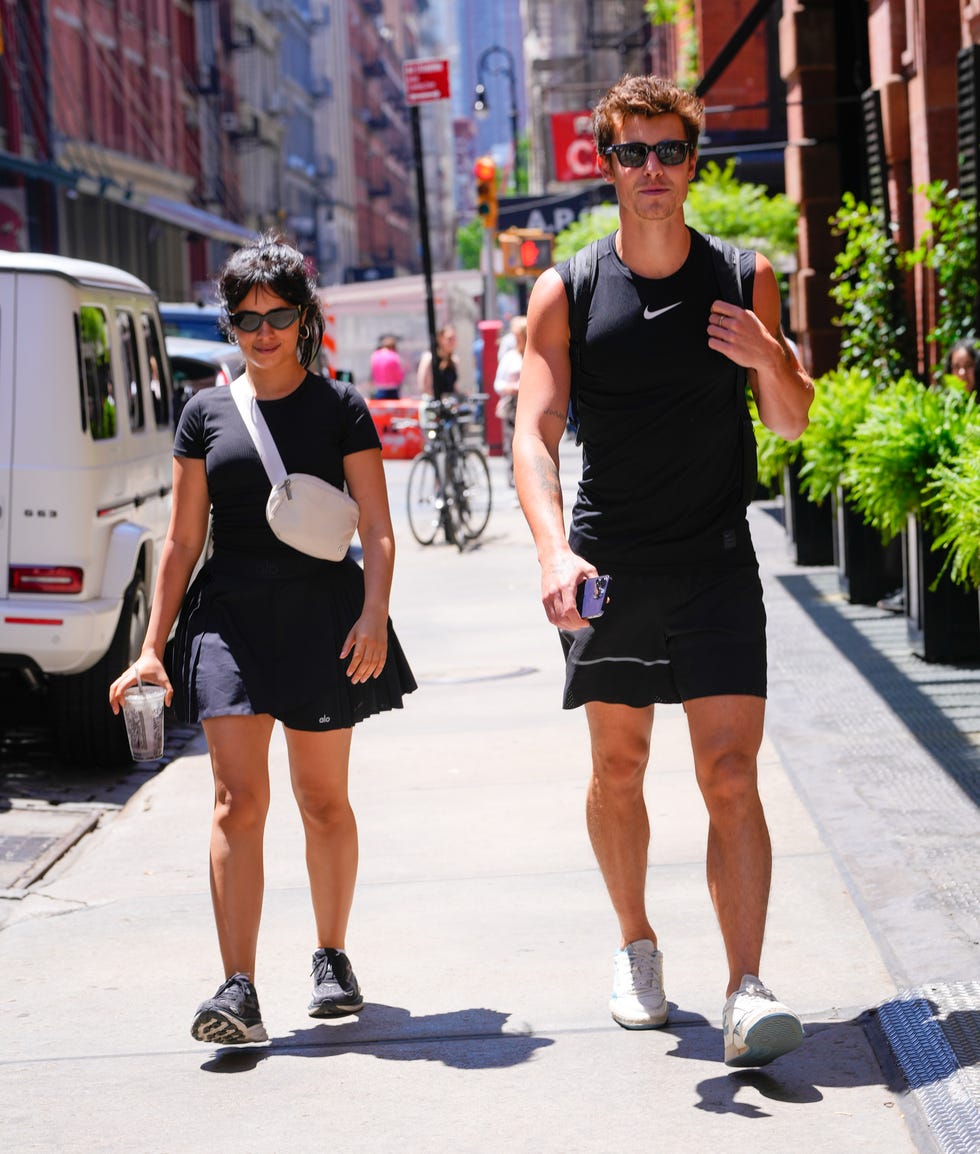 Gotham//Getty Images
On Thursday, May 24, after one of their afternoon hangs, they had a more romantic outing for dinner, meeting up for a shared car ride to the restaurant. They were later seen saying goodbye to each other at the door of Mendes' NYC apartment before the Cuban-born singer headed off in an Uber.

Aimée Lutkin is the weekend editor at ELLE.com. Her writing has appeared in Jezebel, Glamour, Marie Claire and more. Her first book, The Lonely Hunter, will be released by Dial Press in February 2022.